Music Editor Free - Burn & rip CD
With the Audio CD Burner of MEF, you can easily burn your own customized mix CDs for your listening enjoyment, to give as gifts, to use with your aerobics class, or to sell.
After you add audio files to the burning list, you can remove one or all music files by "Remove/Remove All" button; change the sequence of the listed audio files by dragging them to the defined position; use CD-Text to edit title & artist text and view total tracks duration.
Following the burning wizard, you can choose the burning mode and the appropriate burning speed. You can use "Test Mode" to simulate burning to check if there are errors.
With the Audio CD Ripper of MEF, you can extract digital audio tracks directly from audio CDs to most popular audio formats as MP3, WAV, WMA, WMV and OGG in perfect digital quality.
After you insert an audio CD to the disc drive and run the ripper program. All the available tracks will be listed & you just check any one you want. You can also choose one of the compression types from the available templates to fulfill your needs.
1. Burning Mode & Speed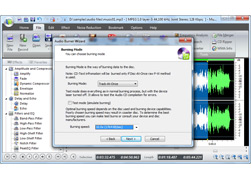 There are several burning modes (including test mode) and burning speed to choose.
What benefits can I expect?
Music Editor Free is for fast & free editing and recording. You will find all the features convenient to use, even for beginners in audio creation.
Zoom in & zoom out the waveform of a selected region for professional analysis
Edit audio files by adding audio effects such as fade in, fade out, echo, etc. to create professional music
Reduce noise in your audio to delete the sound of clicks, pops, cracks, clunks, squeaking and grinding to make a sweetening song to take part in a match
Record songs sung by yourself to make as a cellphone ringtone
Record the music which passes on a radio in streaming
Record any type of audio file or media such as records, tapes, music CDs, radio, eBooks, DAT, Mini-Disc, DVD or video tape sounds
Redesigned music files properties by renaming files based on the tag information, replacing characters or words in tags and filenames
Use Text-to-Speech to insert a section of synthetical speech to your music to meet your special demands
Get all your audio needs, including converting, burning, recording, etc.
Why should I choose Music Editor Free?
There are thousands of audio editor programs out there, free ones and paid ones. Here are some reasons why you should be users of Music Editor Free:
Edit music visually
Provides multiple editing options and audio effects
Supplies the function of recording
Well-predefined output settings and configuration parameters adjustment are provided
Lossless output quality
Multi-core processor supported
Adware, Spyware or Malware free
Drag-and-drop simplicity provided
Super-fast media conversion technology to save your time
Fast and efficient operation
Graphical user interface
Reliable technology is provided
---
What are the system requirements?
Minimum:
Intel Pentium 3 500MHz or equivalent processor
At least 256 MB RAM
200 MB free hard disk space
Graphics mode 800x600, 16-bit colour
Internet Explorer 6
Microsoft Windows XP / Vista / 7 / 8
Recommended:
Intel Pentium 4 1GHz or equivalent processor
512 MB RAM
Minimum 200 MB free hard disk space (since space is also needed to download drivers)
Graphics mode 1024x768 true color (highest 32-bit)
Internet Explorer 7
Microsoft Windows XP / Vista / 7 / 8